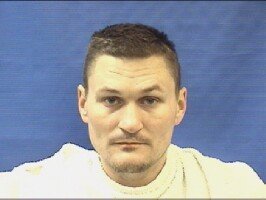 Garrett Wayne Reeves was booked into the Kaufman County Jail on November 20, 2017, at 1:37 p.m.  He was arrested by the Forney Police Department on charges of:  burglary of a building, bond set at $35,000; burglary of a vehicle, bond set at $7000; and theft of property in the amount of $100 or more but less than $750, bond set at $5000. Reeves is described as a white male, date of birth November 10, 1981, with hazel eyes and brown hair, standing 5' 10" tall and weighing 175 pounds.
Reeves was previously arrested by Forney PD [Facebook comments here for that arrest] on a charge of theft of property of the value of $1500 or more but less than $20,000 for an offense that occurred on June 10, 2015. That charge was subsequently changed to burglary of a vehicle and Reeves was sentenced to 80 days in jail following his plea of guilty.
Reeves was previously placed on 4 years deferred adjudication in Kaufman County for the offense of burglary of a habitation on September 1, 2010. Reeves also has prior convictions in Dallas County for the offenses of burglary of a building, possession of a controlled substance in penalty group 3, driving while intoxicated, and failure to identify as a fugitive. Reeves also has convictions in Collin County for possession of a prohibited weapon and possession of marijuana.