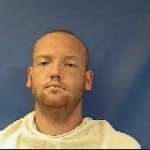 Larry Charles Peters was booked into the Kaufman County Jail on August 16, 2014, and charged with possession of marijuana under 2 ounces in a drug free zone. Peters was arrested by Forney Police Department and charged by Terrell Police Department. He was admitted at 2:18 p.m. Peters is described as a white male, with blue eyes and blonde hair, standing 6′ 3″ tall and weighing 200 pounds. His date of birth is November 21, 1988.
Court records show a Balch Springs address for Peters and indicate he previously was placed on deferred adjudication probation in this case in September of 2012. The terms of his probation were amended in September of 2013 to add additional conditions. His probation was subsequently revoked in April of 2014 when he was found to have violated terms of his probation and he was sentenced to 19 days in jail which he already served. It appears the warrant on this case is for failing to pay all fines and courts costs assessed in the case.
Court records also indicate another possession of marijuana under two ounces case pending in Kaufman County which was filed on August 6, 2014.