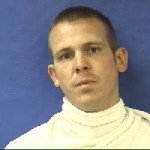 Kody Lee Weaver was booked into the Kaufman County Jail on September 15, 2014, at 9:54 p.m. He was arrested by the Kaufman County Sheriff's Department and charged with making silent or abusive calls or electronic communications to 911 service. Bond is set at $3000. Weaver is described as a white male, date of birth July 1, 1984, with green eyes and brown hair, standing 5′ 8″ tall and weighing 115 pounds.
This is not an accidental butt dial. You have to really work at it to be arrested and charged with this offense.
His rap sheet for nickel and dime offenses is so long it took two screen captures to grab and is certainly too much to type. These offenses escalated to assaultive and family violence charges and now he is charged with abusing 911 service which is usually handled by police dispatchers in smaller areas.
Abusing a police dispatcher should be punishable by mandatory jail time. The police are effective in enforcement because of great police dispatchers. These are the people you reach out to in times of crisis, in times of your greatest needs, and this little manchild punk feels the need to play games with them. These are the people who send help, they tell police officers where to go, what to look for, how to protect the community. They tell fire and rescue units where aid is needed and what to expect upon arrival.
Effective dispatching results in the capture of criminals every day. Dispatchers often go unnoticed while the officer making the arrest hits the front page. But, in many instances, that officer was able to make that arrest because of a dedicated dispatcher behind the scenes. Dispatchers and 911 call takers are an integral part of the emergency services team and anyone messing with their ability to do their job should receive severe and memorable punishment.