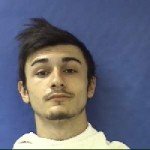 Jeffrey Mark Rice was booked into the Kaufman County Jail on October 7, 2014, at 9:05 p.m. He was arrested by the Kaufman County Sheriff's Department and charged with probation revocation. Bond is set at $30,000. Rice is described as a white male, date of birth September 13, 1994, with brown eyes and brown hair, standing 6′ tall and weighing 164 pounds.
Rice was previously charged with burglary of a building and theft of property in the amount of $1500 or more but less than $20,000 for incidents alleged to have occurred on August 14, 2012. On January 10, 2013, Rice entered a plea of guilty to both charges and was sentenced to 3 years deferred adjudication probation and a fine of $750 in each case. Rice was also ordered to pay restitution in the amount of $2810.06. The motion to revoke his probation in these cases was filed on June 12, 2014.
Rice was also previously charged with criminal mischief in the amount of $500 or more but less than $1500 and failure to identify giving false or fictitious information.