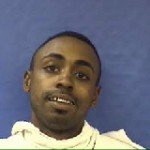 Allen Jurmaine Burton was booked into the Kaufman County Jail on January 22, 2015, at 12:42 a.m. He was arrested by the Kaufman County Sheriff's Department and charged with possession of marijuana in an amount of 5 pounds or more but less than 50 pounds. Bond has not yet been set. Burton is described as a black male, date of birth June 23, 1990, with brown eyes and black hair, standing 6' 1" tall and weighing 140 pounds.
Burton was previously charged in Kaufman County in 2011 with criminal mischief $50-$500 which was subsequently dismissed due to insufficient evidence. In 2012 and 2013, Burton was charged with separate offenses of possession of marijuana under 2 ounces and subsequently entered a plea of guilty in each case and received a sentence of 15 days in jail in July, 2012, and 14 days in jail in May, 2014.
Burton attended Terrell High School where he played basketball.