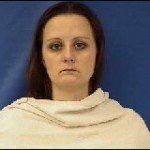 Melissa K Williamson was booked into the Kaufman County Jail on January 6, 2015, at 10:14 p.m. She was arrested by the Kaufman County Sheriff's Department and charged with possession of a controlled substance in penalty group 1 in an amount of 4 grams or more but less than 200 grams, bond set at $40,000, and tampering or fabricating physical evidence with the intent to impair, bond set at $10,000. Williamson is described as a white female, date of birth July 7, 1985, with blue eyes and brown hair, standing 5′ 3″ tall and weighing 150 pounds.
On April 23, 2014, Williamson entered a plea of guilty to charges of theft $1500 – $20,000 and attempted hindering apprehension of a known felon and was sentenced to 1 year in state jail in the theft charge and 6 months in state jail in the hindering apprehension charge.
Williamson also served time in jail in 2012 for failing to identify as a fugitive.