Blayr Christopher Bell was booked into the Kaufman County Jail on May 26, 2015, at 9:17 p.m. He was arrested by the Kaufman County Sheriff's Department and charged by the Forney Police Department with aggravated sexual assault. Bond is set at $100,000. Bell is described as a black male, date of birth May 22, 1997, with brown eyes and black hair, standing 5' 5" tall and weighing 150 pounds.
Not much is known about this case. Charges have not yet been filed in Kaufman County. He has no prior criminal record.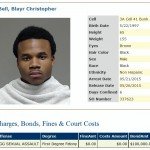 Bell was arrested in Collin County on May 21 and transferred to Kaufman County on May 26. He spent his birthday in jail.