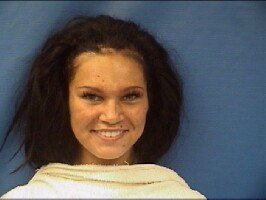 Alyssa Brianne Frederick was booked into the Kaufman County Jail on May 19, 2017, at 1:07 p.m. She was arrested by the Forney Police Department on a charge of evading arrest or detention with a vehicle. Bond is set at $10,000. Frederick is described as a white female, date of birth April 6, 1996, with blue eyes and black hair, standing 5′ 2″ tall and weighing 107 pounds.
Frederick was arrested by Forney PD on Thursday, May 18, 2017, after Forney PD briefly pursued her vehicle when she initially failed to stop for a traffic stop.
Frederick has several previous charges in Kaufman county including criminal mischief $500-$1500, assault by contact, and three charges of speeding. All of those charges were subsequently dismissed.
During the incident, Frederick's vehicle was described as a white BMW with a pink stripe. Photos of that vehicle can be seen on her Facebook profile [prior to the addition of the pink stripe]. NOTE: Frederick's Facebook profile has since been deleted.
Frederick was also arrested a second time by Forney PD on June 3, 2017.