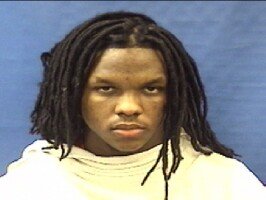 Dion Ellis McElroy was booked into the Kaufman County Jail on August 4, 2018, at 6:30 a.m.  He was arrested by the Crandall Police Department on a charge of aggravated robbery. Bond is set at $100,000. McElroy is described as a black male, date of birth January 18, 2001, with brown eyes and brown hair, standing 6' tall and weighing 180 pounds.
McElroy was arrested by Crandall Police Department on Friday August 3, 2018, following a report of an armed robbery of a pizza delivery driver in the 2000 block of Times Road in Heartland. The driver was robbed of cash at gunpoint and described the assailants as two black males, one wearing a hoodie, one wearing a sweater, both having ski masks covering their faces, who took off on foot following the robbery.
A search of the area was quickly conducted by Kaufman County Sheriff's Department along with Crandall Police Department and air assistance was provided by Texas Department of Public Safety Helicopter (101).
According to a statement by Crandall Police Department, McElroy was caught not far from the scene of the offense. A second subject, identified as a juvenile, was not immediately apprehended. Both weapons used in the offense were also subsequently recovered.