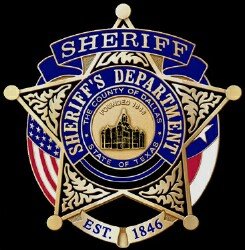 This is audio of a Dallas County Sheriff's Department chase following an attempted traffic stop on northbound 35E at Inwood on June 2, 2018, at approximately 12:55 a.m.
The vehicle, later reported to be a minivan, contained at least 6 occupants, failed to yield, and began driving at a high rate of speed on northbound 35E, including driving the wrong way on Harry Hines and blowing multiple red lights. They also struck a civilian vehicle during the chase and that, or another, vehicle hit spikes which flattened their tires.
Six people were subsequently arrested after the subjects bailed out when the chase went off-road.  A search was conducted by air and ground for a possible seventh occupant but was subsequently terminated.
Approximately 20 minutes after termination of the combined Air 1 / DPD / DSO search effort, a seventh person, a female, was also located and arrested inside a concrete plant where the chase originally terminated. Approximately 20 minutes after that, another female was checked who was reported to be a missing juvenile out of Dallas Police Department as was another male who was previously taken into custody. The majority were 14 to 17 years of age.
[Audio 16:54]
Share/Like/Comment on Facebook