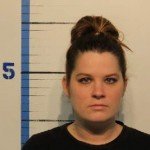 Elizabeth Ann Mehaffey was booked into the Rockwall County Jail on September 17, 2014, at 2:08 p.m. She was arrested by the Rockwall County Sheriff's Department and charged with harassment. Bond is set at $750. Mehaffey is described as a white female, 29 years of age, with blue eyes and brown hair, standing 5′ 4″ tall and weighing 135 pounds.
The current harassment case was filed against Mehaffey on September 8, 2014, for an incident occurring on August 9, 2014. She also has charges pending in Rockwall County for driving while intoxicated 2nd, credit or debit card abuse, and theft of property $50-$500. Mehaffey was also previously charged with driving while license invalid with previous conviction or suspension without financial responsibility. Records show a Rowlett address for Mehaffey.
Here is a mugshot from one of Mehaffey's previous arrests.