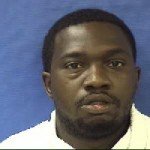 Marcell Lee Bufford was booked into the Kaufman County Jail on October 8, 2014, at 2:43 p.m. He was arrested by the Talty Police Department and charged with possession of a controlled substance in penalty group 1 in an amount of 1 gram or more but less than 4 grams. Bond is set at $10,000. Bufford is also charged with failure to maintain financial responsibility, no operator's license, and speeding. Bufford is described as a black male, date of birth April 21, 1986, with brown eyes and black hair, standing 5′ 8″ tall and weighing 210 pounds.
No prior criminal history could be found for Bufford in Kaufman County. However, in Dallas County, Bufford was sentenced to 10 years in prison following his plea of guilty to two charges of aggravated robbery on April 5, 2004. An affirmative finding of a deadly weapon being used in those offenses was also entered.
Bufford also has a pending theft over $1500 in Dallas County which was filed on March 27, 2014. He appears to be out on bond in that case.