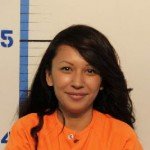 Rosa Elizabeth Espino was booked into the Rockwall County Jail on October 9, 2014, at 2:55 p.m. She was arrested by the Rockwall County Sheriff's Department and charged with evading arrest or detention with a vehicle. Bond is set at $50,000. Espino is described as a white female, 26 years of age, with brown eyes and black hair, standing 5' 0" tall and weighing 99 pounds.
She may be small but apparently she was able to lead the police on a pretty good chase.
Espino was previously released on a $25,000 bond in this case which was filed April 30, 2014, for an offense which is alleged to have occurred on February 18, 2014. The case was set for a plea of guilty on October 9, 2014, but she possibly did not show up which resulted in this arrest.