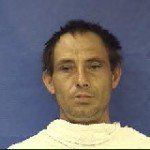 Jimmy Ray Hunt was booked into the Kaufman County Jail on February 7, 2015, at 12:00 a.m. He was arrested by the Forney Police Department and charged with driving while intoxicated and no driver's license. Bond is set at $1500 on the driving while intoxicated and $261.10 on the no driver's license. Hunt is described as a white male, date of birth December 24, 1980, with brown eyes and brown hair, standing 5'11" tall and weighing 165 pounds.
Hunt was arrested after his vehicle was involved in a rollover accident with a female occupant on eastbound Highway 80 at the exit to FM 460 at 1:37 a.m. on February 5, 2015. Hunt was subsequently transported to Lake Pointe Hospital in Forney for a blood draw.
Hunt's information came back to an address out of Mesquite and the female's information came back to an address in Terrell. Neither person required medical treatment.