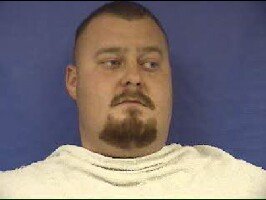 James Cantrell was booked into the Kaufman County Jail on July 19, 2015, at 11:51 a.m. He was arrested by the Forney Police Department on a charge of assault of a family or house member impeding breath or circulation. Bond is set at $10,000. Cantrell is described as a white male, date of birth August 23, 1984, with blue eyes and brown hair, standing 6′ 3″ tall and weighing 280 pounds.
Cantrell was arrested by Forney PD on Saturday night, July 18, following an open line 911 call from a residence in Fox Hollow with a female voice in background which was then disconnected.
No prior criminal offenses could be found for Cantrell in Kaufman County. According to his Facebook profile, Cantrell is from Mesquite.