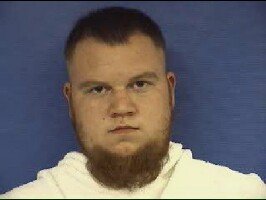 Wesley Joe Murray was booked into the Kaufman County Jail on October 9, 2015, at 11:41 p.m. He was arrested by the Kaufman County Sheriff's Department on a charge of sexual assault of a child. Bond is set at $100,000. Murray is described as a white male, date of birth February 21, 1993, with brown eyes and brown hair, standing 5' 9" tall and weighing 230 pounds.
On October 1, 2015, Murray entered a plea of guilty in Kaufman County to four charges of debit or credit card abuse and was placed on 3 years deferred adjudication probation in each of the four cases, each of which is a state jail felony. Just over a week later, he was arrested for sexual assault of a child in the current case. Hopefully, motions to adjudicate his probation will be quickly filed based on this new arrest.
According to his Facebook profile, he lives in, and is from, Kaufman.