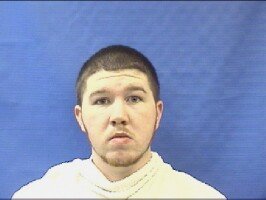 Cody Atchley was booked into the Kaufman County Jail on November 7, 2017, at 12:15 p.m.  He was arrested by the Combine Police Department on existing warrants out of Kaufman County and Rockwall County including probation violations on charges originally filed by the Forney Police Department for the offenses of driving while intoxicated with open container and blood alcohol content over 0.15% and duty on striking unattended vehicle. Atchley is being held without bond on these charges.
In addition to the probation violations, Atchley was booked on new charges out of Kaufman County of possession of a controlled substance in penalty group 1 under 1 gram, bond set at $12,000 and assault causing bodily injury, bond set at $10,000. Rockwall County has also charged Atchley with a probation violation for the offense of theft of service in the amount of $750 or more but less than $2500, bond set at $3000. Atchley is described as a white male, date of birth March 26, 1995, with blue eyes and brown hair, standing 5' 10" tall and weighing 170 pounds.
Atchley was originally arrested [original Facebook post and comments here] by Forney PD at 1:05 a.m. on November 1, 2015, after he struck a vehicle on 1641 while Forney PD was in the process of a traffic stop. Atchley did not immediately stop and was pursued by the Forney PD unit. A second male was also arrested and Atchley's vehicle was towed from the scene.
On May 5, 2016, Atchley entered a plea of guilty to both original charges of DWI and striking a vehicle and was sentenced to 2 years probation and community service of 80 hours. Probation violation warrants were filed in each case on June 7, 2017.
Additional charges were also filed against Atchley in Kaufman County on June 5, 2017, for assault causing bodily injury stemming from an incident on October 16, 2016, and possession of a controlled substance in penalty group 1 under 1 gram from an incident on May 14, 2017.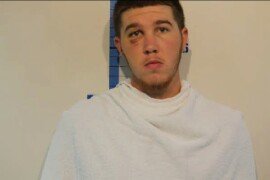 In Rockwall County, Atchley was arrested on September 20, 2015, for the offense of offense of theft of property in the amount of $750 or more but less than $2500. Atchley was subsequently placed on deferred adjudication probation for 18 months following his plea of guilty on March 24, 2016, ordered to perform 50 hours of community service, and ordered to pay restitution to Walmart in the amount of $2244 along with court costs and fines for a total of $2952. A probation violation warrant in that case was issued on June 16, 2017. Court records also indicate Atchley has not made any payments whatsoever in that case.
According to his Facebook page, Atchley attended North Forney High School and lives in Terrell.